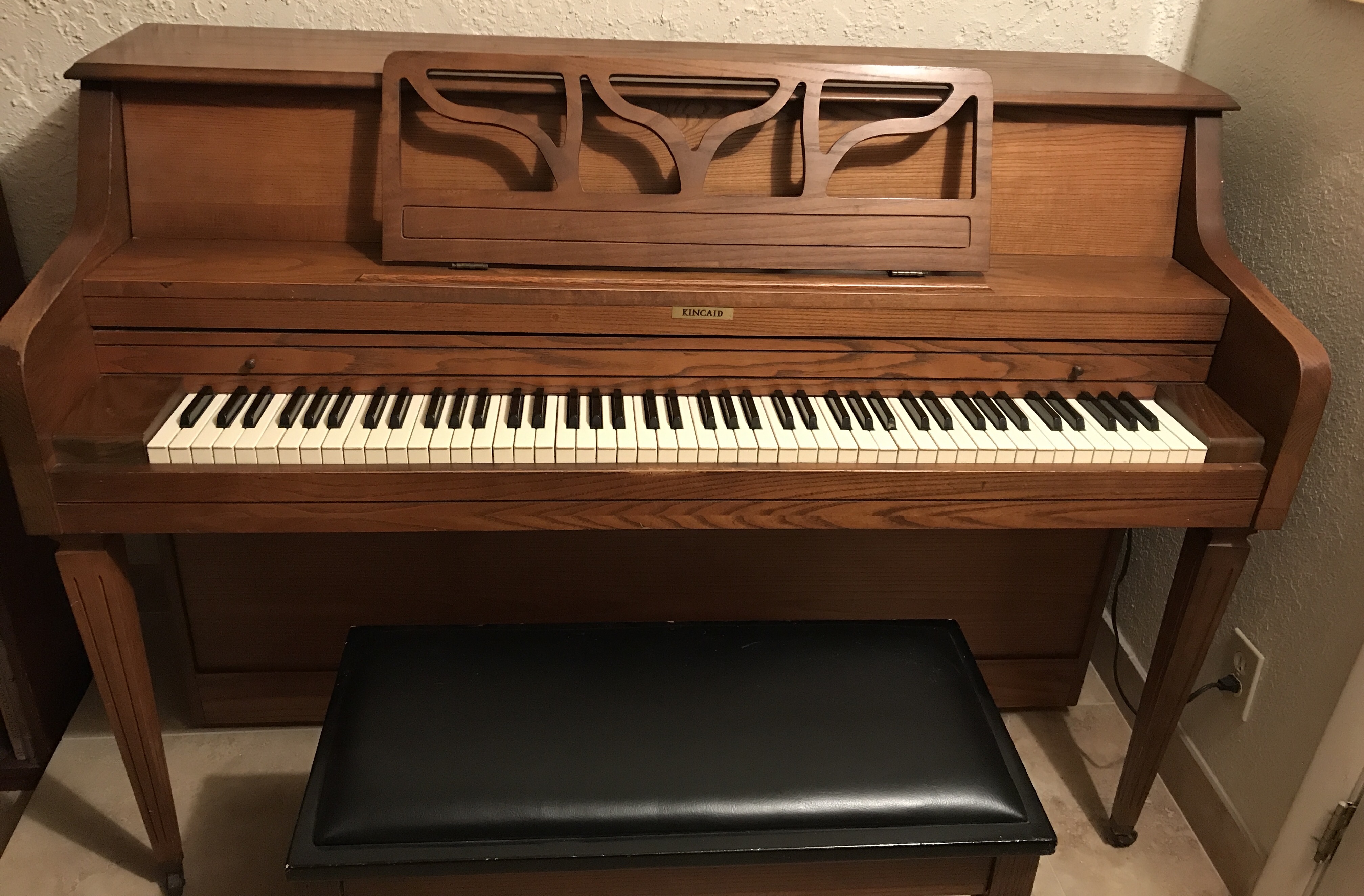 I said goodbye to my piano today. I felt somewhat empty after it was taken which is understandable. We have been together for many years….
My husband and I bought the piano when we were a newly married couple of two years and had just moved into our home. We were young and without a lot of credit now that we had a mortgage so my father had to sign with us to make payments. I was so proud when we finished paying the loan after one year!
I played the piano quite a bit until my children were born and then went through phases of playing as they were growing up.  Both my children took lessons but it was my son who especially loved to play.
After a phase of not playing I returned to my piano after my father died in 2003 and would often play for hours at a time. As notes always do they took on a life of their own. But this time my piano used the power of the notes to heal my grief.
Two months after my father's death my husband surprised me with a gift for our 25th anniversary. It was a baby grand piano! Although I loved my new baby grand I still made sure to play my upright.  As any musician knows, instruments have their own consciousness and I didn't want it to feel neglected! Each time I played, it felt like coming home…
A few years ago I decided it was time for the piano to move to a new home but my son said he would take the piano one day. I loved this idea! After all it was his childhood piano. So I kept the piano, still playing it occasionally. Each time I would think of how one day my future grandchildren would play it!
A year ago my son and his wife settled into their new home so my husband and I made plans of how to deliver the piano to them. But it turned out that my daughter-in-law also had a childhood piano. And they didn't have room for a second one.
As I prepared for the piano movers to come, I cleaned out the piano bench and found the original receipt and life time warranty. I just smiled when I saw I never sent back the registration form. I guess it wouldn't make sense to give it to my piano's new family!
I played one last song, "Far from the Home I Love," from Fiddler and shed a few tears. I whispered to my piano, '"You will be going to a new home now where you will be loved, just as we have loved you! And guess what, there will be a little girl 8 years old, who will be playing you! Her name is Gianna…"
I cleaned up the keys a bit and said my final goodbye.  "Thank you dear piano for all the Joy you have given us! May you bring as much Joy to your new family… "
Thank you for letting me share my journey with you!
Love, Lee